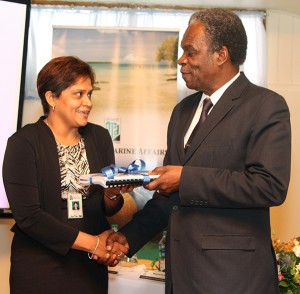 Tobago is losing its beaches, and Tobago House of Assembly (THA) Chief Secretary Orville London is calling for collaborative and resolute action to preserve the island's natural heritage.
This is the only way to ensure the welfare of its future generations, London said, while delivering the feature address at the one-day workshop on climate change adaptation and coastal zone management in Tobago at the Le Grand Courlan Spa Resort in Grafton on Tuesday (May 26).
"The fact is that we are losing our beaches, we are losing our reefs, we are losing our coastline and in some way we are losing our natural heritage," the Chief Secretary stated. "I don't want to sound depressive but we are losing the battle against climate change and coastal zone challenges."
London said the changes that have occurred over the last two decades indicate Tobago is "not winning" the fight to preserve its natural heritage, and described the workshop as timely.
He said it is in that context that he applauds the objectives of the Integrated Coastal Zone Management (ICZM) team to sustainably manage Trinidad and Tobago's coastal and coastal space resources and activity.
"I agree that it must be a participatory process that requires discourse, coordination and harmonisation among government agencies and other stakeholders including communities," London said.
The workshop was organised by the Institute of Marine Affairs (IMA) in collaboration with the Inter-American Development Bank (IDB). Reports on the topic were presented to London by Dr Rahanna Juman on behalf of the IMA.