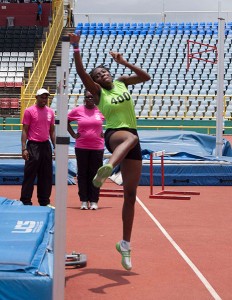 "Twenty-five years is nothing to sneeze at."
That's how Director of Sport at the Division of Education, Youth Affairs and Sport (DEYAS) Theophilus Trim explained the significance of the Tobago Zone's dominance in the Secondary Schools Track and Field Championships.
On Tuesday (May 26, 2015), DEYAS treated the students and their coaches, to a luncheon at the Magdalena Grand Beach and Golf Resort.
At the event, the Division honoured nine outstanding athletes and 11 coaches for their hard work at last month's Championships, where the Tobago Zone earned its 25th straight title defence at the Hasely Crawford Stadium in Mucurapo, Port of Spain. The feat is unmatched in Trinidad and Tobago.
Trim praised the athletes' collective effort, and expressed pride at the Tobago Zone's winning streak. "You the student-athletes should be highly commended, unbeaten after a quarter of a century."
DEYAS Secretary Huey Cadette told the youngsters that sport "engenders discipline", and encouraged them to continue to strive for excellence in other areas of their lives, including their academic endeavours.
Anya Akili was recognised for her outstanding performances which saw the athlete secure three gold medals (Under 18 100 metres, 400 metres hurdles, and high jump) at the games. Also honoured for receiving two or more medals were Ayla Stanisclaus, Zakiya Denoon, Safiya John, Anson Moses, Tyriq Horsford, Sherese Trim, and Asha James. Shania Belfon (400 metres), was awarded as the zone's only under 14 medalist.
The athletes' winning haul comprised an impressive 93 medals—31 gold, 30 silver and 32 bronze.