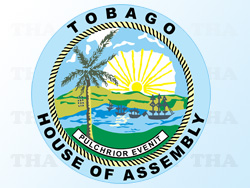 THA Chief Secretary Orville London has expressed his surprise and disappointment at a decision of the Minister of Tourism Stephen Cadiz to exclude the Tobago House of Assembly (THA) from the launch of the $250 million Tobago Tourism Development Fund last Friday.
He said the decision was particularly alarming in view of the fact that the facility was operationalised after extensive discussion involving the THA, the Central Government, the Tobago Hotel and Tourism Association (THTA), the Tobago Division of the Chamber of Commerce and other stakeholders in the local tourism sector.
London stressed that the programme was also expected to operate in conjunction with other initiatives instituted by the THA which has over the past two years invested millions of dollars in support of the hoteliers during the present crisis and the upgrade of guesthouses and similar establishments so as to make them more marketable.
He recalled that earlier this year Minister Cadiz in his then capacity as Minister of Trade, the then Minister of Tourism Dr Rupert Griffith, the then Minister of Finance Winston Dookeran and the Minister of Planning and the Economy Dr Bhoe Tiwari met in an all day session with a THA team led by the Chief Secretary, the THTA and the Tobago Chapter of the Chamber of Commerce to discuss issues involving the Tobago tourism sector.
He noted that the tourism Minister had also pledged meaningful collaboration with the THA and the Division of Tourism when he attended the last Tourism Standing Committee meeting chaired by the Chief Secretary on July 17 2012 and questioned whether the revitalisation of the tourism sector in Tobago was being politicalised. He said while the Secretary of Tourism Oswald Williams was not invited to the launch, the Minority Leader Ashworth Jack played a prominent role.
London cautioned that at this critical juncture, decision-makers have to remain focus on maximising their combine resources and energy in surmounting the challenges facing the sector.
He indicated that despite what was seen as a deliberate snub and in an effort to make political mileage out of what should be a nonpartisan issue, the THA and specifically the Division of Tourism will continue to strive for meaningful collaboration with the Minister of Tourism and the Central Government as it continue to ensure that the tourism sector will not only survive but will actually be enhanced during this challenging period.