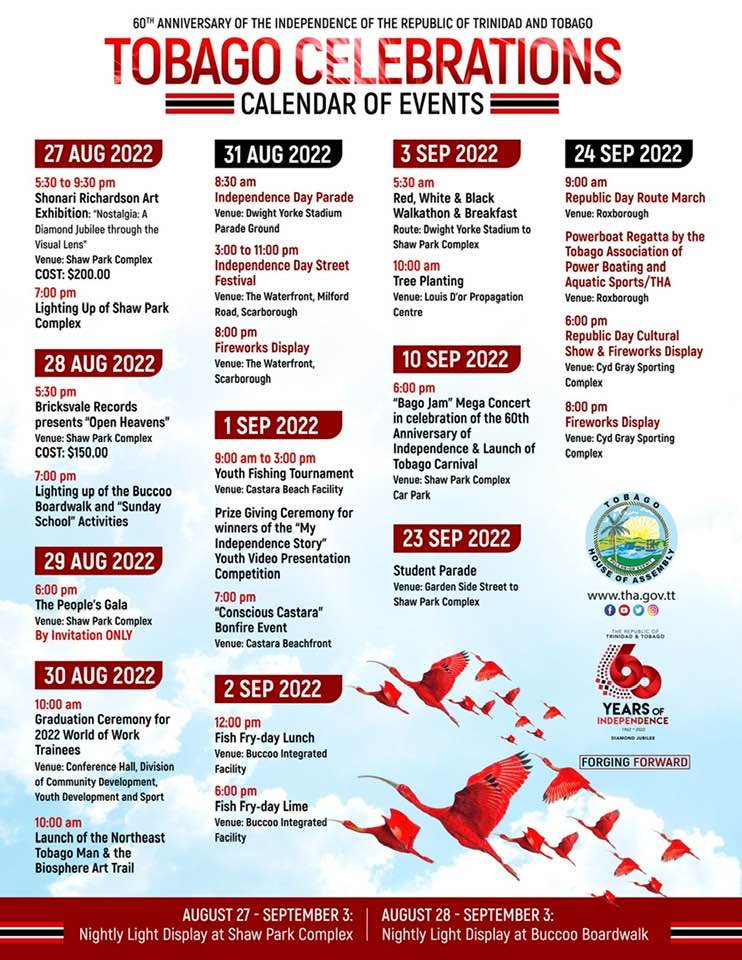 In celebration of the 60th anniversary of the Independence of Trinidad and Tobago, the Tobago House of Assembly (THA) will host a series of events across the island.
It starts with the Shonari Richardson Art Exhibition: "Nostalgia: A Diamond Jubilee through the Visual Lens." The exhibition will be hosted at the Shaw Park Complex on August 27th from 5:30 p.m. The Lighting Up of the Shaw Park Complex will also take place at 7:00 p.m.
On Sunday (28th August), there will also be the Lighting Up of the Buccoo Integrated Facility, also at 7:00 p.m.  The nightly light displays can be viewed through September 3rd.
On Wednesday (31st August), there will be an Independence Day Parade at the Dwight Yorke Parade Ground from 8:30 a.m., and the Independence Day Street Festival at the Waterfront in Scarborough from 3:00 p.m., followed by a Fireworks Display from 8:00 p.m. While on Thursday (September 1st), a Youth Fishing Tournament will be hosted at the Castara Beach Facility from 9:00 a.m.
Other events that will take place marking the celebratory occasion include the 'Bajo Jam' Mega Concert and the Launch of Tobago Carnival at the Shaw Park Complex carpark on Saturday (10th September).