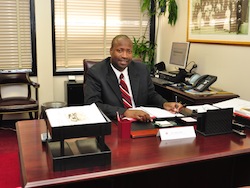 The Tobago House of Assembly invites the public to a four-day talk session series with Dr Learie Luke, as we celebrate Tobago History Month. The discussion is titled "Thirty Years of Revolutionary Change" – The Contribution and Impact of the Tobago House of Assembly, 1980 – 2010.
Dr Luke believes "The picture that emerges from a review of the contribution and impact of the THA is one of revolutionary transformation of the Tobago's physical and social infrastructure, along with an established international presence."
The series begins on Monday, 17th October at the Signal Hill Senior Comprehensive School Auditorium from 1.30 pm. East Tobago will have the opportunity to participate on Tuesday, 18th October 2011, at the Roxborough Composite School Auditorium, from 1.30 pm.
On Wednesday, 19th October, the series continues at the lecture hall of the Division of Infrastructure and Public Utilities, from 7.00 pm. There will be a live broadcast on Tobago Channel 5 and Radio Tambrin 92.7 FM on Thursday, 20th October from 7.00 pm.
Luke, a native Tobagonian, is winner of the 2010 University of the West Indies Bestselling Revised Dissertation Award. He won the Award for his work titled: "Identity and Secession in the Caribbean: Tobago Versus Trinidad, 1889 to 1980".
Come join the Tobago House of Assembly as it reflects on 30 years of progress, "Celebrating the Journey".