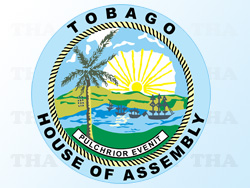 Thousands of Tobagonians have already signed a petition calling on the Central Government to desist from its present course of action dealing with Internal Self-Government for Tobago and to facilitate a process that will ensure that their views and recommendations would be placed in the public domain for discussion, debate and final resolution.
The petitioners have also reaffirmed their support for the two Bills approved by the Tobago House of Assembly on the self-government issue.
THA Chief Secretary Orville London earlier this week wrote the chairman of the Law Reform Commission Samraj Harripaul SC informing him of this and advising him that the people of Tobago were incensed at the blatant disregard of their recommendations contained in the two Bills submitted to the Prime Minister, the Attorney General and the Cabinet.
"They view this decision to disregard those two Bills, while attempting to foist on them, the Green Paper entitled 'Towards Internal Self-Government for Tobago" as insulting and counterproductive," London added.
The two Bills were approved by the Tobago House of Assembly after a working committee of independent Tobagonians met thousands of Tobagonians at public meetings in 41 communities in Tobago and also individuals residing in Trinidad. The Bills were drafted by former Attorney General Russell Martineau SC after he met with Tobagonians at three consultations.
However, the Attorney General published a Green Paper which was dealt with by a three-member committee headed by political analyst Dr Hamid Ghany at a public consultation at the Rovanel's Resort on June 17 that was attended by 55 persons. A second consultation was held in Chaguanas the following day.
Harripaul had written London in September 2011 requesting the comments of the THA on the Green Paper. However, London informed him then that the THA did not support the decision to introduce the paper into the public domain and added that any decision to do this would only frustrate the THA process which was started more than three years ago.
London said unfortunately his request was ignored at all levels and the Assembly had now embarked on a series of activities that has totally derailed the highly transparent and democratic process which had been instituted in Tobago for the resolution of this issue. He told Harripaul that copies of the signatures of the petitioners were available for his perusal.
"I am therefore, on behalf of the Tobago House of Assembly and the people of Tobago which the Assembly represents, urging you to advise the Attorney General of the sentiments on the island at this time and the negative impact on Tobago's request for Internal Self-Government, if the Bills which represent their views, continue to be ignored by the Central Government," London said.