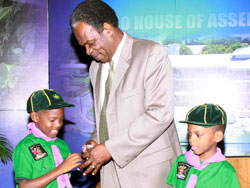 Recently appointed Minister of Tourism Stephen Cadiz met THA Chief Secretary Orville London and Tourism and Transportation Secretary Assemblyman Oswald Williams for more than an hour yesterday (Friday 29th June 2012) to discuss the way forward for the tourism industry in Tobago.
Cadiz said after the meeting at the Calder Hall Administrative Complex that on assuming the post of Minister of Tourism he looked at how crucial the tourism industry was to Trinidad and Tobago and in particular Tobago. He said he hoped to deal with many of the issues as possible for the tourism industry to provide tremendous support for the economy, in particular in Tobago.
The Tourism Minister disclosed that support for the tourism sector in Tobago will be rolled out very soon and the stakeholders will be brought up to date on what was being done. As Minister of Trade Cadiz assisted in formulating a $250 million Tobago Tourism Development Fund earlier this year to assist hotels of less than 50 rooms with their debt restructuring, upgrade and maintenance but the hoteliers have been complaining that it was taking too long for them to access the fund.
Cadiz said he was looking forward to working with the THA in his new capacity and also to be part of the discussions of the Tobago Tourism Standing Committee. He said his objective was to make Trinidad and Tobago and in particular Tobago a hugely successful tourism destination that would then become a major support for the national economy and not the other way around.
Williams said the Chief Secretary and himself took the opportunity to raise a number of outstanding issues affecting tourism in Tobago especially the inadequacy of the terminal building at the ANR Robinson International Airport that was so critical to the development of tourism in Tobago, the service of Caribbean Airlines to Tobago that was critical to the access of source markets and the cruise ship industry which had a recent setback by the inaction of the government to offer incentives to Royal Caribbean which wished to operate 26 cruises to Tobago this summer. He said the Minister gave his commitment to have these matters put on the table for resolution.
London said it was particularly significant that Minister Cadiz was the first among the newly appointed Ministers to hold discussions with the THA. "I think it is in recognition of the importance of tourism to the economy of Tobago and the development of Tobago and it is also important because I think the Minister appreciates the need for very close and meaningful collaboration between the THA and the Central Government and the Division of Tourism and the Ministry in relationship to this industry."