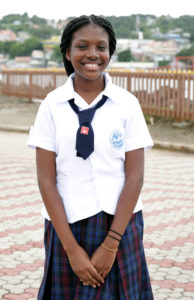 Sixteen-year-old Kayleigh Lewis, Tobago's Junior Secretary of Tourism, placed third at the Caribbean Tourism Youth Congress hosted by the Caribbean Tourism Organization (CTO).
The Scarborough Secondary School sixth form student said participating "gave me hands-on experience in the career I'll like to purse in the future, of a diplomat. And if that doesn't work out, I'll like to pursue political science and international relations."
"There are a lot of entrepreneurial opportunities in tourism," Lewis said, adding that "marketing one's country is a plus for youths and the economy as well."
Competing against 13 other Junior Ministers and Commissioners of Tourism from CTO member countries, she presented on the topic, "Equipping Youth to thrive in an ever-changing Tourism Environment," in Antigua on October 4th.
She received a USD500.00 cash prize sponsored by the CTO scholarship fund. Next, the Junior Secretary will embark on a secondary school tour.