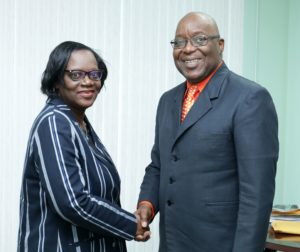 Bernadette Solomon-Koroma is the new Chief Administrator of the Tobago House of Assembly.
She replaces Raye Sandy, who retired yesterday (May 22, 2019) after serving as Chief Administrator from April 2014.
Mrs. Solomon Koroma is a former Permanent Secretary at the Office of the Prime Minister, Central Administrative Services of Tobago (CAST). She also served the Tobago House of Assembly previously as an Administrator.