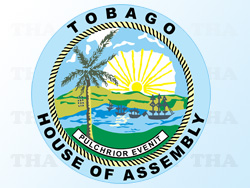 The Tobago House of Assembly (THA) is yet to receive the $100 million parliamentary allocation for the commissioning of the new Scarborough General Hospital at Signal Hill.
This although Prime Minister Kamla Persad-Bissessar promised at the commissioning of the first phase of services at the multi million institution at Signal Hill on April 5 2012 that the Central Government will provide all the necessary resources for the start up of full services.
London said he had discussed the matter up to Wednesday with Minister of Finance Winston Dookeran adding that to date "we have not received any of that funding and we are into the third quarter and well into the commissioning process".
He added: "The discussion was quite cordial and the Minister was quite cooperative, the bottom line however is that as I speak the funding is not available and I am hoping that we would be able to work it out within the next couple of days so that there will be no glitches as we move ahead with the commissioning process."
The first phase offers CT Scan and the expansion of the Cancer Screening Programme with the start-up of the Mammography service.
London said one of the positives coming out of the construction and equipping of the new 100-bed hospital was that the people of Trinidad and Tobago have come to recognise that that fantastic building was as a result of the joint efforts of a number of administrations over a number of years.
"It was good to know that we would have all got together and shared in that moment when we recognised the challenges, many of them have been surmounted to bring us to the point where we are on the verge of delivery," he said. London said he wanted however for the people of Tobago to bear in mind the realities of the situation so that their expectations will be in sync with the realities of construction and commissioning because basically what happened a week or so ago was that a section of the hospital was handed over to be commissioned and then for services to be delivered.
He said his information was that some of the services will be delivered based on the availability and the accessibility of the physical infrastructure.
"I really want to reiterate my commendation to all of those people who over the past seven to eight years would have worked towards ensuring that the problems and some of them were massive problems that those problems were in fact handled in a professional manner and we do have the potential to deliver services in Tobago in a facility that is second to none in the region," London said.