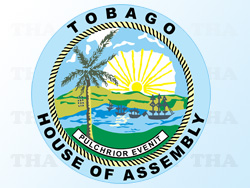 The Tobago House of Assembly (THA) proposes to build a school for the deaf and hearing impaired, Secretary of Education Youth Affairs and Sport Assemblyman Whitney Alfred has said.
He said the Assembly has allocated $.5 million in its current development programme to do preliminary work on the project. The Secretary was responding to claims by Tobago West MP Dr Delmon Baker who was reported to have said that the Assembly was not building the school.
Alfred said he had met with Baker to discuss the matter and informed him that the Assembly would be building separate schools for the Deaf and Hearing Impaired and a second for the Differently Able and not what was planned by the Central Government.
The Education Secretary said DRETCHI (Diagnostic Research Education Therapeutic Centre for the Hearing Impaired) has been requested to supply an architect and user's brief for the school.
The School for the Deaf and Hearing Impaired is presently housed at the old Post Primary Centre on the compound of the Bon Accord Government Primary School.
Alfred also disclosed that the Assembly had allocated another $.5 million for the upgrade of the Happy Haven School for the Differently Able at Signal Hill.
Meanwhile a top level team from the Education Division headed by Alfred met representatives of the Trinidad & Tobago Unified Teachers' Association (TTUTA) two weeks ago to discuss the plight of a number of primary and secondary teachers who were on contract.
He recalled that the issues discussed were that there were teachers who were on contract and they did not have a written contract and teachers were on contract for too long and should be appointed, preferably, in the schools where they have been teaching for long periods.
Alfred said he was unable to give the union a time frame in which the issues would be resolved since Cabinet would have to create the positions before the Teaching Service Commission could make the appointments.