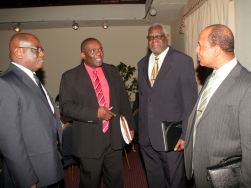 Tobagonians will have to wait for at least another two years for two new police stations, three years for a new fire service headquarters and an indefinite time for the coming into law of the assembly police force and the maritime sports legislation.
Further the construction of a new jail at Belmont on the outskirts of Scarborough should begin in a year and should take four to five months to complete.
This was revealed at a joint media briefing by THA Chief Secretary Orville London and National Security Minister John Sandy on Wednesday (March 14 2012) following a four-hour meeting of National Security heads and the Tobago House of Assembly at the Mount Irvine Bay Hotel.
London said he was heartened by the news that the new jail would be built to alleviate the present deplorable conditions of the Scarborough prison but was very saddened that Tobagonians would have to wait for at least another two years for the police stations at Old Grange and Roxborough and three years for the fire station at Lowlands.
He said designs and the award of contracts for the police stations were done in 2010 and the contract awarded to the Chinese construction firm of Beijing Linjan. He said he was disappointed that the process was aborted resulting in the loss of two years. He said the construction of the fire station was dependent on the full acquisition of the Friendship Estate at Lowlands in west Tobago and urged the National Security Minister to seek the assistance of his Cabinet colleagues in speeding up the final payment for the 100-acre estate in west Tobago.
Sandy was unable to say why the Assembly Police Bill and the Marine Sports Bill have not yet been taken to Cabinet. He also said the 21st century policing initiative launched in Tobago on Monday was adapted to meet the special needs of Tobago as a tourism destination.