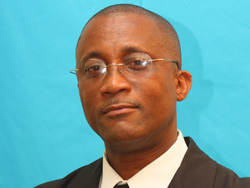 The multi million Financial Complex in downtown Scarborough is scheduled for completion by the end of this year, THA Infrastructure and Public Utilities Secretary Godwin Adams has told reporters. He disclosed that the building which was about 50 per cent complete was estimated to cost $103 million of which some $64 million have already been spent.
He said the structure was earmarked to become the first building of its kind to achieve LEAD (Leader in Environmental and Energy Design) certification status which was developed by the US Green Building Council. He explained that the architects and engineers used those perimeters as a guide to ensure that "we stay within the green situation, the green attitude". He said the mantra of the Tobago House of Assembly was to be Clean Green Safe and Serene so that the introduction of such a building was applicable to this.
Adams recalled that from the inception of construction the project had been encountering problems with implementation but the Assembly did not just sit down and let things run. "We sought to introduce new systems of implementation by changing from the independent consultants to a design/build operation and as a result the building is going ahead full blast and we expect it to maintain that speed to the end," Adams added.
Adams also disclosed that the Assembly had been plagued challenges in the construction of the nearby Scarborough Library. The Assembly had budgeted to spend approximately $40 million on this project. He said after the previous contractor left the site amicably the Assembly decided to change the mode of the project to one of a design/build operation.
He said MTS was contracted to move the process forward, however that was before the elections of May 2010. He said since the new government had not appointed a new board of directors the project was turned over to the Central Tenders Board (CTB). He added that the CTB was expected to invite "expressions of interest" for the project sometime very soon.
He also disclosed that the Cultural Complex at Shaw Park was estimated to cost $230 million of which $100 million have already been spent on the project. Completion date was expected to be in May next year.
When completed, he said, the building will be fully air-conditioned with removable seating for some 5000 patrons and will be the envy of Caribbean neighbours.