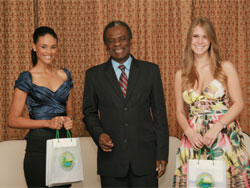 The Miss World Pageant will not be staged in Tobago this year, according to the official Miss World Website – Miss World.com on Thursday.
The decision was taken following a site visit to Tobago by a Miss World Limited team headed by CEO Julia Morely who said the infrastructure to stage the event in the island would not be ready in time and stated that it maybe held next year.
It was only on Wednesday THA Chief Secretary Orville London indicated that Tobago did not have the infrastructure to host such a pageant. He said Tobago had between 1000 and 1500 "A" class rooms and 2000 to 3000 other rooms "so when you are talking about one off events and the impact on Tobago you have to understand that those events can only impact in that scenario where you can only fill "X" amount of rooms".
He added: "So even in relationship to the kind of activity you have got to understand that you can have an activity in Tobago that is in fact too big really for the Tobago tourism market at this point in time. That is why Tobago tends to focus on events that are not massive, they bring in a lot of people by Tobago standards but it is not mass events because we just simply don't have the infrastructure."
London stressed it was not only the number but the quality of the infrastructure. He recalled that when the discussion on staging the pageant here came up initially, concerns were expressed by hoteliers that there had to be an upgrade of the hotel plant if this thing was going to fly. "That is where the big money will come in because the hoteliers are saying it would take between $200 million to $300 million to really bring the properties up to a level that you could really market for a Miss World Pageant.
At the media briefing London exposed two brochures on the pageant prepared for the Tobago Ministry of Development that were sent to him. However, he added, he had received no further communication. "My position remains the same. I have seen nothing in any proposal coming from the Ministry that will give me any comfort or give me any confidence to go ahead with this proposal which to me has not yet being made."
One of the brochures stated that it would have cost at least $54.2 million for Tobago to stage the pageant in December. Of this sum the Tobago House of Assembly (THA) would have had to fork out $22 million from its coffers while the Ministry of Tobago Development's contribution was going to be $32.2 million.
The current parliamentary allocation of the Ministry is $29 million to be spent on its recurrent expenditure and development programme.
London said the premises on which the projections in the brochure entitled: "Making Miss World Pageant Work for You" were made were a little flawed and quite optimistic.