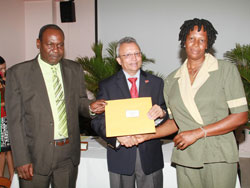 The Tobago House of Assembly (THA) is preparing to take the Central Government to Court to enforce the autonomy vested to it under Act No 40 for forestry and State lands.
This was disclosed by Secretary of Agriculture, Marine Affairs, Marketing and the Environment Councillor Gary Melville on Tuesday (30th October 2012) at the distribution of letters of appointment to 20 honorary game wardens including one female at the PRDI Conference Room, Scarborough. The letters were distributed by Melville and Minister of Environment and Water Resources Senator Ganga Singh.
Melville noted that the National Reforestation and Watershed Rehabilitation Programme and its activities have been in operation under a Memorandum of Understanding (MOU) since 2005 through community groups in three areas employing 100 workers. He explained that in line with the THA Act the MOU was signed between the Ministry of Public Utilities and the Environment and his Division in September 2005. However, during this year changes were made to its mode of operation replacing "community groups with private contractors obtained through other agents in Tobago".
Melville said there were now two competing groups of reforestation activities, adding that the MOU between the parties had long expired and therefore there was currently no legal basis for the operations of the programme in Tobago.
He said there was no communication with the THA on the issue and he had written the Minister but to date had not received a reply.
"The THA has now been forced into a corner on this issue and is left with no alternative but to seek legal enforcement of the autonomy granted to it under Act 40 for forestry and state lands vested in the THA under the Act," Melville said.
He added: "This cannot be tenable and must be dealt with as recent as yesterday. It is a most worrying turn of events at a time when we are about to discuss protected areas and issues like the new forest authority. The Ministry cannot be perceived as trampling on the autonomy of the THA at a time when we all in Tobago agreed that we need greater autonomy."
In an immediate response Minister Singh said the issue originated before he took office and plans to meet with Melville to discuss the future of the programme.