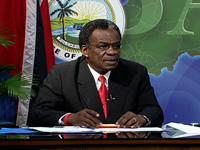 Tobago House of Assembly Chief Secretary Orville London has extended congratulations to Signal Hill Secondary Comprehensive School for its victory in the final of the Coco-Cola Secondary School Football League Championship.
Mr. London noted that it was the first time that a Tobago school had won that particular competition since 1995 and it was the first time that a Tobago school had won a senior national football title since 2001. No Tobago school has reached the final since 2002, he said.
He said by its victory, Signal Hill had become the first school in the history of the competition to win ten national titles, adding that Signal Hill was locked in a three-way tie with Naparima College and San Fernando Technical Institute and the "boys from the Hill have broken that tie and we now have a situation where Signal Hill has the honour and we can't take that away from them to be the first school in the history of senior secondary schools' football to win ten national titles".
The Chief Secretary who was speaking at Thursday's post Executive Council media briefing said he also wanted to pay tribute to stalwarts Bertille St Clair who "returned to the bench this year and we have seen the results of that" and the Vice Principal, now acting Principal Mr. Xavier King who for a long time was the manager of the team. "These two gentlemen have been at the forefront of the success which they now have enjoyed," he stressed.
Mr. London also extended congratulations to the girls' football team of the Roxborough Composite School who were beaten in the finals by Debe High School and also in the national finals.