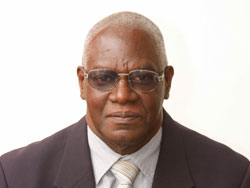 Tourism and Transportation Secretary Oswald Williams has said that the THA will partner with other agencies, as it continues to aggressively market Tobago to improve international arrivals which have fallen to nearly 50 per cent beginning from 2008, during the global economic slowdown.
As part of the campaign, the THA along with the Ministry of Tourism, the Tourism Development Company (TDC) and private sector partners in Tobago will provide travel incentives for persons in the United Kingdom. One incentive package will provide a traveller a rebate of £100 on the airline ticket, providing that he or she also purchases accommodation from a Tobago hotel for at least two weeks. Fifty per cent of the incentive will be provided by the THA and the other fifty by the other stakeholders.
Speaking at the Post-Executive Council Media-Briefing on Thursday, Secretary Williams said the incentive package will also assist in boosting the sales of Monarch and British Airways, which unlike Virgin Atlantic are not experiencing bumper sales. He added that among the headway made at the 2010 World Travel Market in London was to advance negotiations with Denmark's Sahil Airlines, which services much of Scandinavia. Based on discussions, the tentative start-up date is Winter 2011.
An issue that the Secretary said is of great importance is the restoration of the Vanguard Hotel. Mr Williams reiterated that improvement in the international tourism arrivals is greatly hinged on the early completion of hotel repairs – an initiative, he said, to which Tourism Minister Dr Rupurt Griffith has given his commitment.
Moreover, Secretary Williams extended congratulations to the Coco Reef Resort and Spa and the Blue Haven Hotel for winning the Best Luxury Resort in 2010 and the Best Boutique Hotel 2010 respectively, from the Caribbean World Magazine Awards.