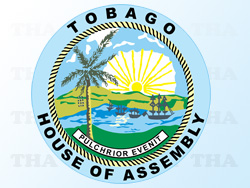 Chief Secretary Orville London has cleared the air on the position of the Tobago House of Assembly (THA) on the controversial Foreign Investment Act (FIA).
He said there was a false perception that people would have had about the position the THA had on the Act which was "falsely misrepresented because we would have taken that position in order to discourage speculation".
He explained that he FIA was introduced to encourage investment and to use access to land in Tobago as an incentive for those who wished to invest in the Tobago economy and because of loopholes in the legislation there were situations where persons were speculating in land to the disadvantage of Tobagonians and of Trinidadians and of course to the detriment of the economy. "That is when we intervened," he stressed.
London said: "The way in which we intervened and the way in which the process developed however, had sent some unfortunate signals and there was a feeling that Tobago was anti investment."
He said one of the areas of shortcomings was the process of ensuring that bona fide investors would have had the opportunity to invest in Tobago in the most favourable climate and part of the problem was because the application process was unpredictable and lengthy.
He said in an effort to clear up the issues a meeting was held with between the THA, the Ministries of Finance and Tourism, the Tobago Chapter of the Chamber of Industry and Commerce and the Tobago Hospitality and Tourism Association on July 14 at the Magdalena Resort. He added that at that meeting a decision was made to set up a committee to treat with those issues as well as to deal with finding ways and means to perceive Tobago to be more user friendly, to deal with the whole process of the allocation of licence and to attract investment into the designated investment areas.
London said: "In order to encourage investment and in order to protect the national what we said is that we will identify in Tobago designated investment areas, these are areas where the strictures with respect to the FIA will not apply, in fact where we will have the kind of regime which will allow for investors to have a better opportunity and an advantage and to have all the various concessions which would make us competitive with the other islands in the region."
He said he was hoping the same group will meet to discuss the report of a committee that was appointed at the Magdalena meeting because it was the implementation of its proposals and the fast tracking of that process as well as the provision of incentives that would make this whole thing worthwhile.
The committee which comprised EIDCOTT Chairman Neil Wilson, Tobago Chamber Chairman Dianne Hadad and Tobago Hotel and Tourism President Chris James submitted its report within its two-week deadline.