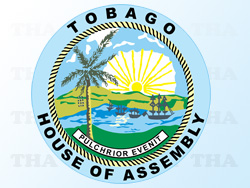 The National Insurance Board (NIB) has requested an input from the Tobago House of Assembly (THA) on the proposed reconstruction of a building in downtown Scarborough, to replace its 30-year-old mall.
Representatives of the NIB met Chief Secretary Orville London and a team from the Assembly last week to discuss the matter. He said the meeting lasted close to an hour during which the NIB made a presentation on its plans for the new structure.
London said the Assembly did not consider the previous building a mall and there was consensus of this at the meeting, adding that the NIB did send the user brief for the building to the Assembly.
He said there was agreement from the NIB representatives that there will an opportunity for the 40 past tenants of the previous building to be given preference for favourable treatment in the new one and that there should be an opportunity for small Tobago businessmen not be to crowded out by their more affluent rivals. He added that the building should take into consideration that Tobago was still a tourist oriented area and that there should be some synergy with the Scarborough Esplanade.
Further he said there should be adequate parking, that the people of Tobago should be continuously consulted and that the design and ambiance of the building should fit in with the Scarborough Beautification Programme.
In recent press advertisements the NIB stated that demolition of the old structure will start this week and will take ten weeks. It was also offering free rubble from the building and free transport to anyone within 15 miles of Scarborough.
NIB acting CEO Karen Gopaul had told the tenants in a circular in March that an analysis done by consultants stated that the "structural integrity of the Mall was severely compromised and posed a serious life threatening hazard to the tenants should a major earthquake occurred. It also concluded that the Mall was unsafe for continued occupation and should be demolished".