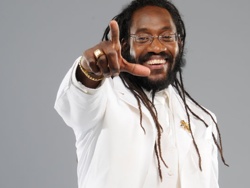 The increasingly popular annual Tobago Jazz Experience will this year see an even more exciting line-up of musicians pulsating with vibes of Caribbean energy. On the agenda is New York-born Jamaican reggae artiste, Tarrus Riley. A repeat visitor to Tobago's shores, and famous for hits like She's Royal and Stay With You, Riley will jump-start the Tobago Jazz Experience at Speyside on 19 April.
The beats continue with Barbadian soul singer Nikita Browne, who earlier this year released her solo "2014 Trinidad Soca" on the Carnival Riddim. The audience can also look forward to the dynamism of established Trinidad and Tobago artistes Roy Cape and All Stars featuring Blaxx, guitarist Michael Boothman, and Joel Phillips. Rhapsody Next Generation will generate an atmosphere of bliss with their unique blend of amplified steelpans and electronic instruments that complement the vocals of lead singer Olatunji.
The Tobago Jazz Experience offers music, culture and tasty food. For those arriving early, Speyside has a host of attractions: panoramic views overlooking Goat Island and Little Tobago, while avid birdwatchers can head over to Little Tobago by boat to see some magnificent species. Of course, the diving and snorkelling at the Speyside Reef is among the best in the region. Its brain coral is the largest in the Western Hemisphere. And, when hunger strikes, Jazz fans can dine along the coastline and relax in the cool sea breeze at any of the area's excellent restaurants.
Usually serene, Speyside was awakened with the introduction of the Tobago Jazz Experience in 2011. Over the years, the festival has featured the likes of Ruth Osman, Arturo Tappin and Kerwin Du Bois. The show is open to the public and kicks off at 5pm at the Speyside Recreation Grounds. For more information on the schedule visit: www.tobagojazzexperience.com
Background Information:
The Tobago Jazz Experience is owned by the Division of Tourism and Transportation of the Tobago House of Assembly and it is one of the many initiatives used to increase Tobago's visibility in the local, regional and international tourism market. The annual festival presents an opportunity to promote the Tobago brand, stimulate economic activity for the Tourism Business Unit and showcase to the world everything the island has to offer.
Schedule
Jazz in the East – Saturday 19 April, Speyside Recreational Grounds, 5 pm
Hillside Jazz – Sunday 20 April, Signal Hill Recreational Grounds, 5 pm
Mt Pleasant Sports Day – Monday 21 April, Mt Pleasant Recreational Grounds, 11am
Buccoo Goat Races – Tuesday 22 April, Buccoo Integrated Facility, 1 pm
Jazz on the Waterfront – Wednesday 23 April, Scarborough Esplanade, 6 pm
Northside Jazz – Thursday 24 April, Castara Beach, 1 pm and 6 pm
World Music Night – Friday 25 April, Pigeon Point Heritage Park (PPHP), 7:30 pm
Youthopia – Saturday 26 April, PPHP, 7:30 pm
Jazz on the Beach – Saturday 26 and Sunday 27 April, Mt. Irvine Bay, 11 am
Beach Jazz Fiesta – Sunday 27 April, PPHP, 4 pm