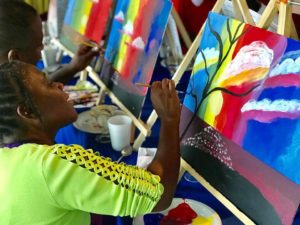 The Mediation Unit, under the Division of Health, Wellness and Family Development, recently held a workshop with members of staff from the Office of the County Medical Officer of Health (O-CMOH) and the Public Health Department on 'Dealing with Difficult People'.
Participants were encouraged to self-reflect on their behaviours, enhance their communication skills, and identify specific behaviour patterns that constitute being a difficult person.
The importance of consistent self-care towards maintaining one's health and well-being was also discussed. The workshop included a 'Splash and Dab' paint session led by Tomley Roberts. If you are interested in participating in a workshop, contact the Mediation Unit at 635-0237.