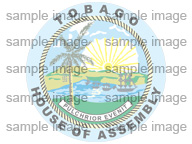 Today, Founder and CEO of Sugar World Foundation, Mr Hudson Robinson formally handed over 30 pieces of medical equipment, including wheel chairs and walkers, to the Division of Health and Social Services. There to receive the donations worth some $36,000.00 TT, on behalf of the Division, was Assistant Secretary for Health and Social Services, Mr Huey Cadet.
Mr Robinson, a Tobagonian by birth said that this is the second installation of a two-phased project. The first took place last year, 2009 when the organisation provided 15 wheelchairs to the Division. The Foundation's C.E.O. added that he is pleased to again make a contribution
to alleviate the situation of Tobago's less fortunate and that future contributions will include motorised wheelchairs.
Assistant Secretary Huey Cadet said that the THA is pleased to partner with members of the community and other groups to improve the lives of Tobagonians. He reiterated that his Division
is committed to providing the environment, services, tools and other assistance which will allow for improvement in the quality of life of all Tobagonians.
The Sugar World Foundation is a Not-for-Profit Organisation, which is based in the United States. It has partnered with the Tobago House of Assembly on other ventures, including bringing a team of chiropractors in 2005, to Tobago for service to the public. The initial contact of the Foundation with the THA was provided through the assistance of former Member for
Tobago West, Mr Stanford Callender.