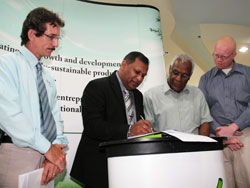 The largest solar street lighting system in the Southern Caribbean is being installed at the Cove Eco Industrial and Business Park in southwest Tobago.
A contract worth $3.74M was signed between the Eco Industrial Development Company of Tobago (E-IDCOT) Limited and joint partner Active General Traders Limited of Carnbee, Tobago and Carmanah Technologies Solar System of Vancouver, Canada at E-IDCOT's offices Gulf City Mall last week.
The contract is to install 79 stand alone street lights at the Park over the next 120 days.
E-IDCOT's CEO Earle Baccus said at the signing that the joint partners were selected in a rigours process. He explained that15 expressions of interests were received from which four were invited to submit proposals. Two were finally selected to negotiate for the contract.
Baccus said the negotiations were intense and took up to 15 months to be finalised. He said E-IDCOT first held discussion with T&TEC for the street lighting project and was given a capital cost for $1.5M for the infrastructure alone.
He added that the solar system will give his company a predictable and reliable service.
Managing Director/CEO of Active General Traders Limited, Danny Balkissoon noted that it would take E-IDCOT up to five years to recoup its expenditure while the solar system was guaranteed service for 10 years. He said the system can operate during natural disasters and can withstand winds of up to 150 MPH in hurricanes.
He said his company was responsible for installing solar lights on the runways at Piarco and the ANR Robinson International Airports.