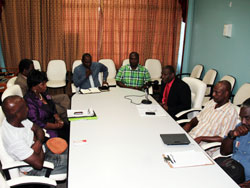 The Plymouth jetty is going to be demolished, but the Tobago House of Assembly is ensuring that fisherman have an alternative venue to unload their catch.
"We have seen some light," President of the Plymouth Fishermen Association Curtis Douglas said after representatives from the Tobago House of Assembly met with the group on Tuesday to discuss the matter.
The jetty will soon be demolished on the grounds of public safety. The THA is currently tendering to select a marine contractor to pursue the demolition. Work is expected to begin on the project in early November. Secretary of the Division of Agriculture, Marine Affairs, Marketing & the Environment Gary Melville said that warning signs will soon be put up to prevent persons from using the jetty since it is an unsafe structure
Other THA representatives present during the discussions were Chief Secretary Orville London, representative of the Black Rock/Whim area Claudia Groom-Duke and Chief Administrator Dr Ellis Burris.
The Division of Agriculture will put up a temporary structure in the Leather Bay area, which fishermen use to unload their boats. The construction process will start before the end of October.
Douglas stated that the Fishermen Association had tried contacting Francis Gillette, who is the legal owner of the jetty, on several occasions. "We tried to invite Mr. Gillette to meetings to have a proper dialogue with us and for some reason, Mr. Gillette failed to do so," he said.
"An important agreement that was reached this morning is to keep open channels of communication between the Fisheries Department of the Division and the Fishing Association," Secretary Melville said.
The two groups also treated with the redesign and renovation of the fishing facility at Courland Bay. A meeting between the Assembly and the Fishermen Association is planned to review the design, which will include facilities for boat repairs.