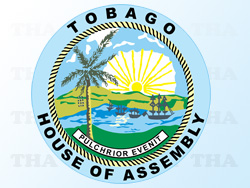 CARICOM Region's largest Solar Street Lighting System was turned on at the Cove Eco-Industrial and Business Park at Lowlands, Tobago on Thursday night.
Secretary of Finance and Infrastructure Development Joel Jack stated at the commissioning that the Eco-Industrial Development Company of Tobago (E-IDCOT) Limited, a THA company, undertook a rigorous tendering and evaluation process leading to the construction of the 79 lighting units along the various roads within the Park. The project was done within nine months at an approximate cost of $3.7 million and was completed on time and within budget by Active General Traders Limited of Carnbee, Tobago.
He added that this cost was expected to be recovered within the next 5-7 years while the units had an average 'run-time' of four full days and were highly resistant to the potentially high winds and the marine environment at the Park.
Jack said the ceremony also marked the opening of E-IDCOT's second factory shell which was named after one of Tobago's leading entrepreneur Rufus T Phillips. He said the event also underscored the Assembly's thrust to transform the Tobago economy, to promote private sector activity, and most importantly improve the lives of Tobagonians through sustainable development.
"This flagship project epitomises the power, poise, perseverance and pride of the people of Tobago and the Assembly must be commended for its vision and determination to take Tobago to new heights," Jack said.
The Park consist of 400 acres of developed space owned and operated by Tobagonians, solely dedicated to honing entrepreneurial excellence on the island, and improving the standard of living for all Tobagonians, and raising the island's profile in this competitive global economic environment. He said E-IDCOT had a mandate to develop, manage and promote the requisite facilities for the continued growth and prosperity of local entrepreneurs.
Cove is the island's first industrial park, and it is also the nation's first industrial park of an eco-friendly nature. "Clean, green, safe and serene, the park represents the core principle of the Assembly's development agenda which is not just to develop Tobago, but to maintain the island's pristine nature in the most sustainable and progressive way," he added.