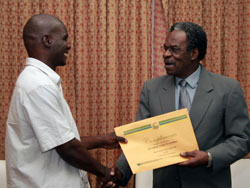 It was where he was born and his family lived for more than half a century. But time held more significance for Oscar Jerry Charles, as he collected the lease to land which his family has occupied on Aldephi Estate in north Tobago.
Oscar along with five other occupants received their documents from Tobago House of Assembly Chief Secretary, Orville London. The others are Atrill Nelson, Joycelyn Blake, Samuel Mc Leod, James Bailey, Nacke Cruickshank.
The Chief Secretary assured other occupants that as long as there are no disputes they will receive leases in a matter of months. Jerry who was happy that the long wait was finally oversaid: I want to publicly thank the Assembly, the people who have been working behind the scenes and Mr London who has rightly said it is a birthright to us."
London told the recipients: "I am begging you, I'm urging you, we did not invest this so that you all could sell it and give up your birthright." He remarked that the Assembly and the Central Government at the time had spent millions of dollars to ensure that Tobagonian families could benefit.
London pointed out that members of THA staff had put in a lot of long hours to ensure that the process was completed. "We did not go through all of this so that you and your children could have your land for your use and the use of your grandchildren for you to take the land and sell it."
With these leases occupants can take out mortgages and do other transactions that they could not do before. The Estate was purchased by the THA in 2008 from the original owners. All occupants have received letters of comfort and over twenty-five families have received leases. Regularisation is a three-phased process with the distribution of leases being the final step.
The Tobago House of Assembly has been regularising the status of residents who have been living on State Lands across Tobago.
The presentation took place at London's office Monday (7 November, 2011) at the Administrative Complex, Calder Hall.