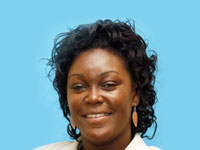 $10 million will be used for priority projects, according to Secretary of Community Development and Culture Tracy Davidson-Celestine.. She said the scope of works will include upgrade to several community facilities across Tobago. Among the centres noted were those at Golden Lane, Glamorgan, Signal Hill, Delaford, Good Wood, Les Coteaux, Mount Grace, Carnbee/Mount Pleasant and Mason Hall.
Davidson-Celestine was speaking at the THA's post-Executive Council media briefing. She said following the demolition of the Speyside Community Centre on Friday (3rd November, 2011) to make way for a new structure, construction of the Lowlands, Betsy Hope and Bethesda /Plymouth multipurpose facilities will take place.
She said works will begin next week. "our Division as well as the Division of Infrastructure and Public Utilities are working endlessly to ensure that we can have those facilities up and running within an eight month period."
The secretary will meet with villagers of Belle Garden, Canaan/Bon Accord and Lambeau on Monday 8th and Wednesday 10th, November. She said the Division had promised the communities improved facilities and will be meeting them "to get a better understanding of their needs."
Meanwhile, the festivities in honour of the "Year of the African" continue. Davidson-Celestine also disclosed that come Saturday, (November 26, 2011) world-renowned artist Baba Maal and his band will perform at a grand concert, here in Tobago.
Additionally, she said the very successful first time ever Tobago Vintage Calypso Competition at the Pembroke Heritage Park last Saturday (October 29, 2011) was also part of the year round celebrations. Dillon Thomas triumphed over 10 other competitors to be crowned vintage calypso king and to win the coveted $20,000 prize.