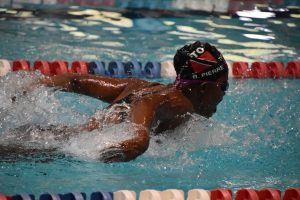 Rochelle Pierre brought Masters silver to Trinidad and Tobago in the recently-concluded 2018 UANA Pan American Masters Swimming Championships in Orlando, Florida.
The Tobago YMCA Aqua Warriors assistant coach touched the wall in a personal best 32.65 seconds to finish second in the 50-metre butterfly event.
Pierre also placed 5th in 50-meter breaststroke and 50-meter freestyle and 8th in the 100-metre freestyle.
And the mixed relay team of Rochelle Pierre, Debra Neville, Curtis Harper and Anton Gopaulsingh finished fifth in the mixed 200-metre freestyle relay, and eighth in the mixed 200-metre medley relay.
The competition featured over 1,500 athletes from close to 40 countries.
The competition ended on Saturday (August 4).