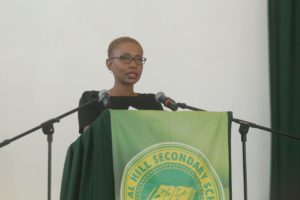 Signal Hill Secondary School held an Anniversary and Achievement Day on February 27th, celebrating 43 years of the school's existence and recognizing high achievers.
Themed 'Surpassing All Expectations', students were honoured for their accomplishments in several areas, inclusive of academics, sports, A level/CSEC, and performance in various spheres of culture, such as dance.
T&TEC's Corporate Communications Manager, Annabelle Brasnell, gave the feature address. "It's so exciting to see students blazing a trail. Just having the dream is the first step," she said. "If there is something you really want, once you commit to the desire, you will do all in your power to achieve it."
She told members of the audience that high parental expectations help students as "they're more likely to graduate and perform better academically."
The event took place at the Auditorium of the Signal Hill Secondary School.