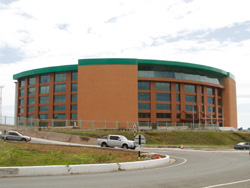 The public got its first glimpse of the Shaw Park Complex on Tuesday (3 February, 2015) night. The activity centre made its debut with a thanksgiving service entitled: United in Praise. The first event for the 5,000-seat capacity venue brought together religious leaders of varying persuasions to mark the occasion through prayer and thanksgiving.
This first event is a precursor to a number of other events leading up to the grand opening within the next few months. These include the Inter-Department Personality and Calypso Show on Thursday (5 February 2015), as well as the THA Pan Champs.
Members of religious bodies across Tobago—from Seventh Day Adventists to Catholics, Jehovah's Witnesses to Spiritual Baptists, Hindus, Muslims and many others—were all invited for an evening of praise and togetherness.
There were also several performances to complement the tone of the event. Lisa McSween gave a stirring dance performance of "Give Praise Children," while there was also a Hindu dance number and steelpan—thanks to the Moravian Pan Ensemble.
The Spiritual Baptist Combined Choir, coordinated by former Secretary of Community Development and Culture Cynthia Alfred, performed two songs accompanied by African drums.
Assistant Secretary in the Division of Infrastructure and Public Utilities (DIPU) Handel Beckles, himself a Seventh Day Adventist music minister also stepped on stage for a rousing performance of "Days of Elijah."
Former DIPU Secretary Hilton Sandy took his seat in the audience, showing his continued progress in recovering from a stroke he suffered in September 2013.
The facility, will host sport and cultural events but its fan-shaped, modular floors and spacious interior will allow the Complex to host a number of other functions.
During his opening remarks, Chief Secretary Orville London thanked the religious leaders for joining the celebration, saying the title "Unity in Praise" was chosen deliberately.
He asked Tobagonians to be thankful for the new, "world class" Shaw Park Complex and to see its potential opportunities.
"This facility is ours," London said. "It belongs to all of us. We must feel the sense of ownership of this facility. We must share the pride in the facility. Most importantly we must adopt the mindset that will allow us to maximise the myriad opportunities that we have in this place."
The Chief Secretary sees the potential for it to become the "religious convention centre of the world".
London also praised Alfred—who he dubbed the Grand Dame of culture in Tobago—saying the Complex was her brainchild.
"This was her dream, and when she brought it to us she frightened us because of the scope of the vision," London recalled. "But I'm happy to say we had the courage and foresight to follow Ms. Alfred's dream, and today, that dream is a reality and all of us in Tobago can be proud of it."