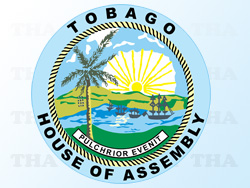 Assemblymen of the Tobago House of Assembly (THA) on Thursday (Sept 25) approved a resolution urging the residents of Tobago and the other citizens of the country to endorse and support the initiative of the Assembly and the Forum of Political Parties seeking Tobago's right to self-government.
They also recorded their firm commitment to the present process for democratic self-government initiated by the Assembly and the Forum which comprises the People's National Movement and the Tobago Platform of Truth.
In presenting the resolution for consideration at the plenary sitting of the Assembly, Chief Secretary Orville London said there are compelling reasons why this issue has to be brought to the House at this time. He said there is need for clarity since there are pockets of individuals who for one reason or the other have expressed concern that some people are instilling fear into individuals.
He said there is a perception that the THA and the Forum have made a deliberate attempt to keep out certain political organisations which was far from the truth. London urged those who have not been involved to come on board because they have nothing to lose.
London said he wanted those who are not involved to understand that the issue could affect their political future and this is one time they have got to put Tobago before politics. He said after four decades of labeling, finger pointing and polarisation on the issue it was high time that closure be brought to it.
"The time is long overdue to bring a satisfactory conclusion to this four decade old struggle," London stressed.
London recalled that the more than 500 participants at the September 14 self-government convention overwhelmingly and enthusiastically endorsed the present initiative of the Assembly and the Forum to adopt a unified and cohesive approach to this phase of the self-government struggle.
He added that the eventual success of this initiative will be especially influenced by the level of commitment, passion and resolve displayed by the residents, the interest groups and other organisations in Tobago.
Referring to the recent referendum in Scotland, London said, there were two major differences. He pointed out that a certain percentage of Scots wanted independence, but in Tobago "we do not want independence, we want self determination, we want self-government which means remaining within the sovereign democratic state of Trinidad and Tobago. Scotland didn't want that, they wanted to break away."
Secondly, London said, there was a division among the Scots as to whether Scotland should get independence or not. "In our case there was consensus; in a run up to the elections everybody spoke of self-government, there was not a single political party, there was not a single candidate who didn't preach internal self-government for Tobago.
"I am saying therefore there is a fundamental difference between the Scottish situation and our situation and we shouldn't allow ourselves to be side-tracked as to what happened or did not happen in Scotland," he said.
He said: "There are similarities and we must look at the final resolution because the Scottish issue is not finished. The Scottish people did not get independence, but they in effect were able to start discussions on a number of changes in the relationship between Scotland and England that in effect would improve their situation and give them a level of self-determination in which those who didn't want independence would be comfortable with" London added.
He called on the public to "let us have the conversation in a manner that will ensure that we the people of Tobago and our brothers and sisters in Trinidad and we the people of the country are able to come to an amicable settlement."