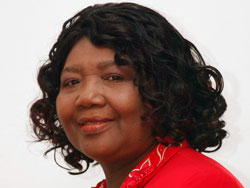 The Tobago House of Assembly Education Division is partnering with the University of the West Indies (UWI) and the University of Trinidad and Tobago (UTT) to have all the island's teachers obtain the Bachelor of Education degree, Secretary of Education, Youth Affairs and Sport Claudia Groome-Duke has stated.
In addition she told reporters at Wednesday's post Executive Council media briefing that her Division was in the process of upgrading at least one laboratory in each school to the level of a teaching lab so that training could take place here in Tobago while the National Training Agency (NTA) training for school staff as assessors and internal verifiers in preparation for CVQ was also continuing.
She, however, said that although her Division had been intensifying its tech voc programmes in schools by collaborating with the UWI, UTT and NTA, there was still no word from the present Central Government on state of the art facilities at Canaan, which was earmarked by the former administration as the MIC Centre to serve Tobago.
Voicing her concern, Groome-Duke revealed: "We have not had the information yet and so we are a little concern whether those programmes that started in 2009 will continue. She said: "This structure was established to incorporate the then government's seamless education system whereby all levels of training flowed from one to the other, HYPE, NSC Craft, NSDP Journeyman programmes. All of these programmes were scheduled to be housed at this facility and therefore we expected the programmes to start in 2011."
Groome-Duke who recently returned from Barbados where she attended a UNICEF and Governments of the Eastern Caribbean Sub-Region consultation on children's education, reported that as part of her stay she was invited by Barbadian Minister of Education and Human Resource Development Ronald Jones to tour two UNICEF funded child-friendly schools.
Adding that the THA need not re-invent the wheel, Groome-Duke said: "We felt that this approach would definitely support the Behaviour Educational and Attitudinal Modification programme that we have set up here in Tobago". She said her Division felt it necessary to engage in discussion with principals, vice principals, other members of staff and its stakeholders as they work through the process for child-friendly schools in Tobago.
Groome-Duke also commended the Goodwood High School for cupping the first prize in the AMCHAM productivity forum with their project "Path to promote higher education and learning through entrepreneurial innovation and development". The school also won the prize for the best project, best e-forum and the second prize for the debate discussions. She said this was an excellent project and "we are supporting them all the way".