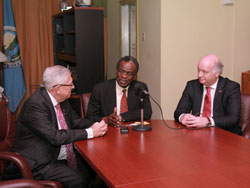 The Tobago House of Assembly (THA) has pledged to support a British prosecution's expert in recommending the reform of the criminal justice system in the country.
Chief Secretary Orville London met with Bob Bland, Criminal Justice Adviser to the Government of Trinidad and Tobago and British High Commissioner to Trinidad and Tobago Eric Jenkinson on Monday (28th March 2011) at the Calder Hall Administrative Complex.
Following the meeting London said: "We in the THA will be willing to collaborate with him and ensuring that he gets all the information." He said he was heartened that Bland, so early in his assignment was able to recognise the uniqueness of the Tobago situation, accepting that there were areas he will have to give Tobago special attention.
Bland said his role was to look at the whole criminal justice system from the start of investigations through the court system, police system, DPP, right through to the prison system and assist in advising any reforms that were required.
He added that there were different circumstances here in Tobago and it was necessary for him to understand the differences between both Trinidad and Tobago and be able to take those on board in any advice he gave in terms of criminal justice reform.
His assignment was as a result of a joint partnership between Trinidad and Tobago, the Government of Canada who funded the project, the Crime Prosecution Service and the British High Commission. He said he had a tremendous support team in London and can call upon the services of the Government of Canada and the British Government in Port of Spain to assist him in ultimately assisting in any criminal justice reform within Trinidad and Tobago.
He is a solicitor in England, a prosecutor for over 25 years and his last posting was in the organised crime division, which was a specialist division in the crime prosecution service dealing with transnational organised crime. He also has 20 years of experience working with overseas jurisdictions, both in terms of obtaining evidence and also in capacity building, helping other jurisdictions to develop criminal justice systems.
The British High Commissioner who was on his farewell visit to the island described the project as a unique arrangement and a template for other parts of the world. He added that he was pleased that they were able to look at the criminal justice system from the Tobago point of view. Jenkinson leaves Trinidad and Tobago at the end of April after a four-year stint.
He said he had always found Tobago a very pleasant destination for him to visit and through the Chief Secretary and other Secretaries and the THA they have been able to achieve so much to the benefit of both islands and both countries.
Chief Secretary London described Jenkinson as one of those rare individuals who was able to personalise diplomacy and still able to maintain the highest level of professionalism. "I was always impressed by the very quiet, dignified but firm and professional manner in which he conducted himself."
He said while reminiscing they were able to think about the number of issues, some of them quite challenging that they were able to resolve or at least alleviate. He said much of it was because of Jenkinson's understanding of the process and his ability to deal with the issue in a very pragmatic but very personal way to use any means necessary to get the problem resolved without ruffling any feathers.
"Mr. High Commissioner I really want to again reiterate how very pleased we are in Tobago for the way you conducted yourself and to say thanks on behalf of all Tobagonians for the number of issues which you have been able to resolve and the number of crisises you have been able to alleviate," London added.