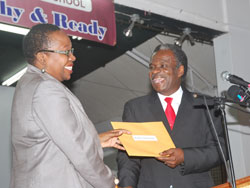 The Tobago House of Assembly continued its recognition of schools that performed with excellence in the areas of academics, culture, and sports on Friday (May 25, 2012). The Division of Education, Youth Affairs, and Sport monitored schools over the last year. Those with high levels of achievement were honoured with cheque distributions. A point scale system of 1-10 was used to record the level of each school's achievement in each category. Coordinator of School Supervision, Dr. Verleen Bobb-Lewis said, "The criteria used for evaluating the primary schools included the number of SEA top 20 students, the school having a SEA mean score above the national mean, and the school mean score above the national mean in all of the subject areas in the National Test 2011 Examination." Black Rock Government came out on top in the academic category.
The criteria used for evaluating the secondary schools included students' scores in the CSEC, NCSE, and CAPE exams. Bishops High School was the highest ranked school. Many students from Bishops were offered scholarships, and DEYAS allotted points for this achievement.
Schools were awarded points for their achievements in culture based on their participation in cultural events such as the Heritage Festival, as well as if they entered competitions. If the school reached the national level within their category, extra points were awarded. The category of sports followed the same premise as culture, with team sports receiving a higher rating than individual sports.