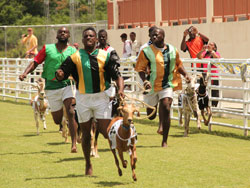 The internationally famous Tobago Goat Racing event will be spread to other venues in the island during which points will be awarded to qualify for the Mt Pleasant and Buccoo races to run off at Easter Weekend.
This was disclosed by THA Chief Secretary Orville London at Wednesday's weekly post Executive Council media briefing. He said the Assembly believed that this whole goat racing industry should not just be confined to the Easter Weekend since it has potential and it does bring attraction.
He said he Derby starting next year was going to be linked to a series of events which the Assembly hopefully would have scheduled at both venues and persons with boats and goat owners should note that their goats will qualify based on points accumulated during the year.
He said the Assembly was also hoping to link it with the cruise ship sector and have situations where this was one of the highlights of ships coming to Tobago because "we are aware that there is a lot of competition among the various venues in the Caribbean especially for land base activities and we have a responsibility in Tobago to ensure that we have as varied a menu of land base activities as possible".
London said Tobago had a very successful crime free Easter Weekend which climaxed with goat racing at two spanking new facilities at Mt Pleasant and Buccoo which enhanced the environment significantly on Monday and Tuesday.
He said he was also very pleased to note that the Division of Finance and Enterprise Development was able to join with the other Divisions of the THA in raising the bar and introducing the Derby at both events where there were record prizes. "I want to indicate that it is in keeping with the Assembly's intent of ensuring that we do things a little bit differently and hopefully a little better from a developmental perspective," London added.
The Tobago Chief Secretary said based on the information received there have been no serious incidents and complimented the Police Service for the presence of officers at the venues and for providing a service by its Mounted Branch some helicopter surveillance. "That was quite commendable and I really wish to extend the appreciation on the part of all the organisers, the Assembly and all of the people of Tobago for the yeoman service by the Police Service during this hectic weekend," London said.