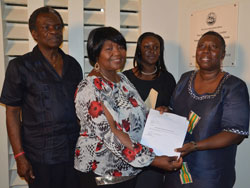 Katzenjammers Steelband has launched a pan institute at its Black Rock Pan Theatre.
This is a very significant event for the steelband which copped the top prize in the Medium Band category in this year's National Panorama Steelband Competition, THA Chief Secretary Orville London said at the launch on Wednesday night. He said what was happening with the band was part of the Assembly's thrust to make various organisations in Tobago more self sufficient and to encourage the entrepreneurial aspect within these organisations and these institutions.
The incorporation of the Katzenjammers Institute stated that it will teach the playing of the instrument as well the protection of inventions and the manufacturing of steelpans. The facility will also provide the opportunity to be involved in not only the cultural activity but cultural activity that can have some kind of impact.
London said the THA was partnering with Katzenjammers in this process but not controlling it since the Assembly will have three members on the 12-member Board of Directors. He added that the steelband will have the majority shareholding and thus the decision making capacity because of its preponderance of members on the committee.
"I want to wish Katzenjammers the best and I would expect that they would not only be known as Panorama champs but they will also be known as an entity which is able to bring a certain amount of social, cultural and economic development not only to Black Rock and environs but also to the people beyond," London said.
He said he was very impressed by the band's training programme over the years and the fact it has been able to have more or less a home grown organisation because it continued to train and guide young people resulting in one of the younger bands in the Panorama competition and one of the more successful entities.
London also congratulated the representative for the area Assemblyman Claudia Groome-Duke who has worked in very close collaboration with the band's manager Beverley Ramsey-Moore and its captain to ensure that Katzenjammers emerged as not just one of the top steelbands in Tobago but one of the top steelbands in the country. He stressed: "If you are one of the top steelbands in Trinidad and Tobago then it follows that you are one of the top steelbands bands in the world."