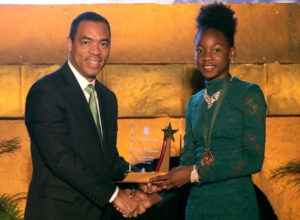 Collaboration to effectively raise the level of athleticism on the island was the main focus for Secretary of Sport and Youth Affairs, Jomo Pitt, at the THA 2019 Sports Awards held at the Magdalena Grand Beach and Golf Resort last week.
Pitt stated that elevating sport is a team effort. "We all have to work hand in hand. No one entity could take credit and say I did it by myself. At the Division, we will continue to partner with stakeholders and the sporting fraternity to ensure that our young athletes live up to their fullest potential," he stated.
The THA Sports Awards Ceremony is a platform for awarding the outstanding contributions of the island's athletes, sporting organizations and sports administrators. This year's event was themed: "Origins…Reigniting the Flame".
First Citizens, main sponsor of the event for the second consecutive year, was represented by Deputy CEO – Business Generation, Jason Julien.