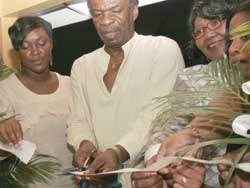 Members of the Glen Road community in Tobago can now boast of a modern air-conditioned community centre.
The $1.9 million centre was officially opened on Sunday at a function attended by scores of villagers. It was the first of five projects to be delivered to the people of Tobago this month. The other projects are the Patience Hill Hard Court, the refurbished Louis D'or Recreation Ground, the Belle Garden Recreational Facilities and the Les Coteaux Early Childhood Care Centre.
In delivering remarks at the function, Community Development and Culture Secretary Tracy Davidson-Celestine said community facilities were at the heart of stronger communities and it was for this reason her Division continued to provide social infrastructure and a significant investment in the development of Tobagonians. "Community involvement is also important as we work towards building stronger communities, we will build the facilities, we will create the programmes, but the rest is up to you to utilise the facilities and the programme for your development," she told the villagers.
She said there were presently 33 community centres in Tobago and in fiscal 2011 while the Assembly was able to receive only $6 million from the Central Government for the construction of community centres it was able to access approximately $23 million from the Executive Council to complete construction of the Parlatuvier and John Dial Community Centres and to start construction of the Speyside, Betsy's Hope, Lowlands and Bethesda centres.
Davidson-Celestine noted that the old centre at Glen Road was in a deplorable condition and not up to standard and said as result of representations made by the two area representatives – Secretary of Health and Social Services Claudia Groome-Duke and Chief Secretary Orville London, a new wing was constructed at a cost of $1.9 million to encompass the old structure. The refurbished centre now has two floors, a hall to house persons for classes and community activities, computers, kitchen and washroom facilities and an office.
In his feature address London urged members of village councils to devise strategies to get others involved in activities. "Village Councils have to make their meetings attractive, they have to make coming attractive and that is why I am challenging the village councils to understand and to recognise themselves almost as evangelists, they have to see themselves as not believing that there is something that is inherently attractive about people coming to meetings.
London announced that young people of Glen Road and nearby Daryl Spring are invited to a meeting on August 17 to discuss their needs and to hear what plans the Divisions of Community Development and Culture and Education, Youth Affairs and Sport had for them. London as well as Groome-Duke will also be present to address the meeting which starts at 7 p.m.