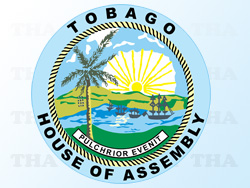 Minister of Finance Larry Howai has given his approval to the Tobago House of Assembly (THA) to enter into the BOLT arrangement for the construction of the $143 million Milshirv office complex for the Assembly's Division of Agriculture, Marine Affairs and the Environment.
He has also approved under section 51(b) of the THA Act for the payment of lease rents to Milshirv Properties Limited under the proposed lease between the THA and Milshirv.
However, in delivering his consent order in the Port of Spain High Court on Thursday (25th July 2013) Justice Ronnie Boodoosingh stated that the judicial review application filed by Attorney General Anand Ramlogan be converted to one of interpretation for the Court to determine the true extent of the THA's powers under the THA Act. This will be heard at a date to be fixed in 2014.
Commenting on the development, Chief Secretary Orville London recalled on Friday (26th July 2013) that the Assembly had months ago made an appeal to all concerned not to personalised the issue which was in fact a legal one of interpretation to determine the powers of the Assembly under the THA Act . "Of course the Attorney General and the members of the Central Government did not heed that suggestion and went full speed ahead with their judicial review accompanied by a lot of rhetoric and vilification of the persons involved and their characters," London said.
London said he felt vindicated that at the end of it all the "AG has finally accepted that Milshirv was about an interpretation of the law and not about the abuse of the law by any individual".
The Chief Secretary added that it was important to note that the Minister of Finance in his letter to him had described Milshirv Properties Limited and FCB Limited as "innocent third parties, in a context where his colleagues had accused the companies and THA of colluding in an illegal transaction".
He said the THA was relieved that the project which was delayed for almost a year can now be resumed by the developers and hopefully delivered in the shortest possible time. He said he hoped that lessons would have been learnt from this.
London said the date of resumption of the project will have to be determined by the developers.