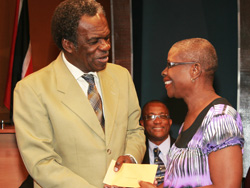 The Tobago House of Assembly (THA) on Tuesday (30th July 2013) presented cheques to 13 fishing boat owners whose vessels were damaged in January by "above normal seas".
The cheques totaling $353,892.13 were distributed by Chief Secretary Orville London, Secretary of Agriculture, Marine Affairs, Marketing and the Environment Godwin Adams, and Assistant Secretary Hayden Spencer at the Calder Hall Administrative Complex, Scarborough.
In addressing the boat owners London warned them that they should not use the money they were receiving on other things than repairing their boats. "This is Tobago people's money you are receiving and I therefore urge you not to spend it on buying a car," he said.
London said the Division of Agriculture will be monitoring how they spent the money and to ensure that every single cent was spend on what it was given for. He said the Assembly had done a similar thing in the past but the money was not spent on repairing the damage boats.
The Chief Secretary said he was not asking for recognition for providing the money but for them to go back into the fishing industry to provide food for people.