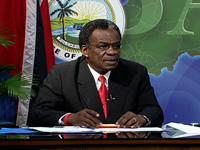 THA Chief Secretary Orville London has said nothing in relationship to self government for Tobago can happen without amendments to the Trinidad and Tobago Constitution and the THA Act.
He explained that the THA Bills approved by the House of Assembly following consultation with the people of Tobago dealt with the Constitution and the Act. "Nothing can happen to change the status quo in Tobago except you amend both the Constitution and the Act that is what happened in 1996."
Attorney General Anand Ramlogan released a Green Paper containing four pages of amendments to the Constitution but nothing on amendments to the THA Act.
However, London said: "I want the Attorney General, the TOP and their cohorts to tell the people of Tobago why are we going through this charade when we known that at the end of the exercise nothing can change, we now have to start the process over and go on to get a new Tobago House of Assembly Act when you already have a Constitutional Amendment Bill and a THA Amendment Bill to which you can refer, somebody has to explain that to me since it does not make sense."
The Chief Secretary said Tobagonians were intelligent people and he felt the evidence was so clear that no self respecting Tobagonian can help but become very concern about the process that was being forced upon them.
London also appealed to Tobagonians to get the correct information on the issue and share it with others. He said the Assembly has available information on the two Tobago "people's bills" and the Green Paper that were available at the Assembly Legislature in Scarborough and on its website: tha.gov.tt.