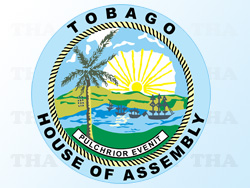 Two children had CT scans at the new $725 million Scarborough General Hospital yesterday (Tuesday 3rd April 2012) ahead of today's commissioning of the first phase of operations at the institution.
Medical Chief of Staff Dr Nathaniel Duke was on hand to oversee the scans which were done with the new equipment that was installed in the new hospital at Signal Hill. Duke said the procedure went very well and he was satisfied with the performance of the staff.
Duke said these were unscheduled scans but because of the nature of the injuries to the children it was decided to put the equipment to use instead of sending them to Trinidad.
Earlier Secretary of Health and Social Services Assemblyman Claudia Groome-Duke told the weekly post Executive Council media briefing that the contractor, China Railway Construction will hand over one-third of the building to NIPDEC who in turn will hand it over to the Health Ministry. The Ministry will then hand it over to the Tobago House of Assembly to be operated by the Tobago Regional Health Authority. Prime Minister Kamla Persad-Bissessar is expected in Tobago for the event starting at 2 p.m.
CT scans and mammography were scheduled to begin on April 11 and will be the first two services to be offered at the hospital. The TRHA has moved in 85 supporting staff to work in the space provided by NIPDEC. When fully operational by the end of the year there will be 1559 staff, 384 more than that at the Scarborough Regional Hospital at Fort King George.