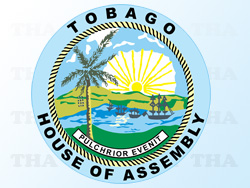 The Tobago House of Assembly (THA) has not yet had a follow up meeting with Finance Minister Larry Howai to discuss the "arithmetic" of the 2014 budget allocation for Tobago.
Representatives of the Assembly led by Chief Secretary Orville London met Howai and technocrats of his Ministry on August 5 2014 to discuss the THA's requests for fiscal 2014.
London told the Assembly's 6th monthly meeting in its democratisation programme on Thursday night at the Glamorgan Community Centre in east Tobago that the Assembly had not gotten a feedback from the Minister to "know whether he will accede to our requests".
As a result, he added, the THA as in the past was expecting to receive about half of its $4.95 billion budget.
He recalled that the THA team had told Howai that if it could not get all of its requests in cash, it wanted to have access to loans to carry out its off budget programmes such as housing construction.
London explained that after the national budget was read on September 9 THA Secretaries will go into retreat to look at the money requested against what was received, following which a new Tobago budget will be done based on the parliamentary allocation. "Then we say these are the things which we can do and cannot do," he added.
He said the Assembly can only deliver depending on the resources provided. "I want you to recognise that we will be equitable in our distribution of the resources. We can't do everything for everybody at the same time."
The Chief Secretary said regardless of the circumstances they should optimise the opportunities provided to them. He said the opportunities were better than those provided in other parts of the country and probably in the world.
London said while he did not want to be "too political" he was inviting them to drive around Chaguanas West to see what Jack Warner, MP for the area has been describing as performance. He told his listeners that they had more than many of the communities in Trinidad. He said governance was about partnering and urged them to be aware of what they can do for themselves.