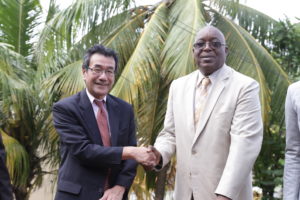 The sod-turning for the reconstruction of the Community Emergency Response Team (CERT) Centre took place earlier this month.
Work on the project will soon start with three million dollars in funding. A grant of $1.38 million from the Japanese government was made available with $1.6 million in funding coming from the THA.
This follows a Memorandum of Understanding between the THA and the Embassy of Japan in Trinidad and Tobago in March 2018.
Tobago Emergency Management Agency (TEMA) Director, Allan Stewart, said Towers Consortium Consulting Agency was awarded the contract for this project.
THA Chief Secretary Hon. Kelvin Charles showed great appreciation for the grant. "I must sincerely thank the Embassy of Japan in Trinidad and Tobago for its tremendous support towards construction of this facility and its donation through the Grassroots Human Security Project grant," he said.
The project is expected to be completed in February 2020.