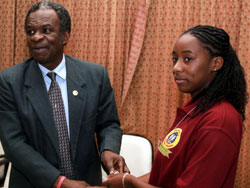 Like most great institutions, the birth of the Moravian movement in Grenada was during a time of great need and much pain. Immediately following the devastation of the island by Hurricane Ivan in 2004, a group of young Tobagonians from the Moriah Moravian Church took aid to victims. Who would imagine that out of this selfless act, many lives would be changed for the better.
Young Callisha Greenidge who is in Tobago for the Moravian Provincial Youth Camp said "God … brought the Tobagonians at the right time and in that place so that I could have gotten my breakthrough". She said prior to the Moravian missionaries' coming, she was down at times, but now she was just overwhelmed. "My community really needed that Church and the members. I can't really describe it. It is overwhelming", she repeated.
George and several campers from six territories around the region paid a visit to Chief Secretary Orville London at the Calder Hall Administrative Complex, on Tuesday. (August 9, 2011). The group of 60 had set up camp along the Arnos Vale/Les Coteaux Road for 11 days, beginning August 3.
Noting that historically, the Moravian Church was probably unparalleled when coming to evangelistic work with the "grass roots", London said but like other established churches today, it appeared to be challenged with attracting young people. He, however, spoke highly of the Church's ability to attract and produce very young and vibrant Ministers.
"I hope that you are in the position where in the camp you will take the time off to think about those who are not at the camp and how you can get them", London added.
When asked about youth work on their islands, the young people from Antigua and Barbados were happy to report that the Church was responding to the challenge. The Church in Barbados, in particular, had formed a youth council with the primary purpose of attracting and keeping its young people.
"I hope that you enjoy Tobago and take back very pleasant memories ", London told the group. He added: "but more importantly that you will be informed by the interaction and be energised and motivated to spread the word of God and the Moravian message among your colleagues in your respective islands."
The Grenada Moravian Church falls under the Tobago Conference. This conference, therefore, is directly responsible for mission work on that island. Since the inception of the Church in Grenada, this year 2011 was the first time that a Grenadian was part of the camp experience, Tobago-born minister Reverend Liselle Roberts said. It is also the first time that the camp is being held in Tobago.