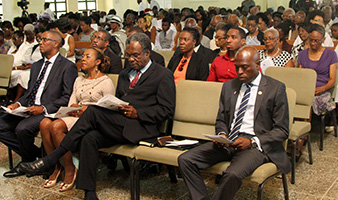 The 225th celebrations of the Montgomery Moravian Church on Sunday (July 5, 2015) also doubled as a time of sober reflection for its members.
During his sermon Reverend Cortroy Jarvis, a former pastor at the church, called on the congregation to be "rooted, ready and reaching," and reminded them of the church's contribution to life in Tobago.
The church also celebrated the 600th anniversary of John Hus, a Czech priest and reformer, who was burned at the stake for heresy in 1415. Jarvis said despite the circumstances, Hus stood firmly on his beliefs.
Millions of Christians worldwide, including the Moravians, view Hus—a key predecessor to the Protestant movement of the sixteenth century—as a martyr to the gospel. The Moravian Church, founded in what is now the Czech Republic on March 1, 1457, is widely considered to be the oldest Protestant denomination.
"As we worship today, we have a goodly heritage. We too are called to stand in the promises of God," Jarvis told followers during their Grand Anniversary Service of the church in Bethel, Tobago.
Tobago House of Assembly Chief Secretary Orville London asked churchgoers to contribute time outside of church to ensure the work of God was shared. He said it was important that they maintain their missionary zeal.
"If the Moravian church was nothing else, it was a missionary establishment," he said.
The Chief Secretary encouraged the congregation to think of their forefathers' work and to live in a way that inspired others to attend church.
"Live Christian lives to be excellent exemplars," he said.
Secretary of the Division of Education, Youth Affairs, and Sport Huey Cadette also attended the Church's 225th anniversary celebrations.