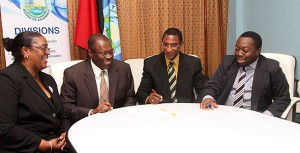 "Easier access to justice."
That's what Tobago will get once the Industrial Court completes the refurbishment of its new building at Sandy Hall, Scarborough. An initial signing ceremony for the building took place today (July 8, 2015) at the Administrative Complex in Calder Hall to get the ball rolling.
Once the other paperwork is completed, and their 199-year lease is confirmed, the Industrial Court will take possession of the property and undertake renovations and retrofitting before the court can be opened. The building will also house the Environmental Commission.
This development also takes place 50 years after the Industrial Court of Trinidad and Tobago was established in 1965. Currently, Tobago only has a Magistrate Court and a High Court. The island's industrial matters are heard in Trinidad or at the High Court in Scarborough during its vacation period.
It means Tobagonians can have their industrial matters heard on the island instead of having to journey back and forth to Trinidad for that purpose.
Industrial Court registrar Noel Inniss said an Industrial Court branch is needed in Tobago.
"One of the things you have to understand is that you want easy access to justice," he stated. "In Trinidad you have a court in Port of Spain for those in the environs, you have a court in San Fernando for those persons in that environs, so you need to have a court in Tobago.
"That would make it easier, less expensive and less inconvenient for persons who reside in Tobago. That's the whole purpose of having a court, to be able to give those kinds of benefits, and those are immeasurable benefits to person who reside in Tobago."
Inniss hailed the Court's jubilee milestone, saying the institution has delivered social justice for 50 years.
"We have moved from having 20 cases in 1965 to dealing with 1,400 in 2013-2014. So it means that persons understand their rights, they are using the courts, and if they are using the court, they believe that there is some sort of justice that they're receiving," Inniss said.
Design plans for the new space will begin soon, along with guttering work, while the larger renovations are expected to begin in the new fiscal year.