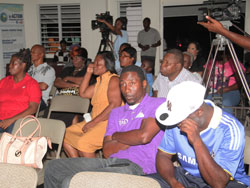 The Business Development Unit of the THA Division of Finance and Enterprise Development has disbursed 229 loans to Tobago entrepreneurs amounting to $19 million since its establishment in 2003.
In addition, the unit has approved 400 applications for enterprise assistance grants totaling $7 million of the 700 applications received with a value of $17 million.
This was disclosed by Secretary of Finance and Enterprise Development Assemblyman Joel Jack during his report to the Tobago population on the activities of his Division at the eight stop in THA democratisation process held at the John Dial Community Centre of Thursday night.
Jack who is the Assemblyman for the area also disclosed that $1.3 million was disbursed to the Tobago services sector alone, adding that "our work neither begins nor ends at the cheque stage."
He said over 500 young persons have joined the Home Ownership Savings Programme, a partnership of the THA and First Citizens Bank to assist them in procuring a home in years to come.
The Finance secretary added that his Division has carried out the continuous monitoring of supermarket and hardware prices and distributed 364 social emergency cards and 317 medical alert devices to deserving persons. Training was also conducted in a wide range of business related fields including marketing, customer service, budgeting, money management, book-keeping and cash flow.
Jack spoke of the success of the Tobago Cassava Products Limited which distributed 2000 sticks to 19 farmers and was preparing to receive 14,000 plants in February for distribution. The THA owned company has also purchased and processed over 5,000 pounds of cassava used in a variety of products.
He added that the Capital of Paradise l owned by the Fish Processing Company of Tobago Limited was used to catch 26,600 pounds of fish to be sold locally, bringing in revenue of $122,892 in addition to the exportation of 39,179 pounds of yellow fin tuna valued at $732,195.99.
Jack also reported on his achievements in the Bacolet/Mt St George constituency since being elected nine months ago.