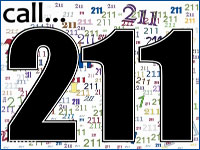 Tobago House of Assembly Chief Secretary Orville London has said that Tobagonians should be justifiably proud of the process which led to the recent launch of the 2-1-1 contact service centre by the San Fernando City Corporation.
London noted that the City Corporation had partnered with the Tobago House of Assembly on the project and can now benefit from the toll free facility which was initiated in Tobago more than a year ago.
At the San Fernando launch, Dr. John Prince who is Chairman of the Board of Directors of the Tobago House of Assembly's Information and Technology Centre Limited, explained that several months ago, all of the fourteen (14) regional corporations in the country were invited to Tobago and given the opportunity to initiate the 2-1-1 toll free project but only the San Fernando Corporation started it.
London reported that the 2-1-1 initiative has been of significant benefit to Tobagonians who can now access critical and reliable information throughout the day and he reiterated that the Tobago House of Assembly will remain committed to the sharing of the expertise and the process with all the corporations in Trinidad and Tobago.