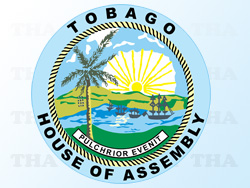 The Integrity Commission has dropped the investigation into the Milshirv project being undertaken by the Tobago House of Assembly.
The Commission found that there are insufficient grounds for continuing its probe into the THA's Build Own Least Transfer (BOLT) project to construct the administrative complex for the Division of Agriculture, Marine Affairs, Marketing and the Environment.
Commission registrar Martin Farrell notified the THA's legal representatives of the development on November 7.
The Milshirv issue has been the People's Partnership administration's main prong of attack against the THA in the run up to the THA elections in January last year. Under the arrangement, the PNM-controlled THA bought a three-acre parcel of land at Shirvan Road/Claude Noel Highway intersection from Dankett Ltd for $12 million.
The property was then leased to Milshirv Ltd at a rate of $10 annually for 199 years. Under the lease, Milshirv would build the administrative complex at an estimated cost of $143 million and then lease/rent it to the THA at a monthly rate of $1.2 million for 20 years.
At the end of the 20 years, or at three-year intervals during the period, the THA could purchase and take ownership of the complex.
Attorney General Anand Ramlogan had referred the matter to the Commission for investigation with specific reference to the actions of THA Chief Secretary Orville London and former Secretary of Finance and Enterprise Development Dr Anselm London to see if any charges could be laid.
A letter also was sent to acting Commissioner of Police Stephen Williams calling for a police investigation. The Commission launched its investigation in 2012 with the full cooperation of the THA.
Farrell told the THA's legal representatives that the Commissions had investigated the matter and after examining all the evidence and legal submissions by the concerned parties, it had determined there were insufficient grounds for continuing the probe and had decided to terminate it.
Section 34 (6) of the Integrity in Public Life Act says "where, during the course of an investigation, the Commission is satisfied there are insufficient grounds for continuing the investigation or that a complaint is frivolous, vexatious or not made in good faith, it may terminate the investigation."
Chief Secretary London told reporters at a recent media conference that it was a relief to all of us that this particular chapter is closed from that perspective.
He added: "There are lessons which we would have learnt from the exercise and I think it takes us to a position to where we can even do things better going forward. I think it was not a pleasant experience but an experience that has been a learning process for us. I want to give the people of Tobago the assurance that we have learnt from it."